Commercial Work
Are you a shop fitting company or building contractor looking for reliable decorators that know their trade inside out? Have you worked on a large project and been let down by the decorators you have used?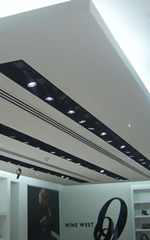 For many years we have worked hand in hand with shop fitting companies in the UK and abroad, working on large projects with excellent award winning results.
With over 25 years' experience our decorators provide the highest level of quality workmanship at realistic prices.
We can fully project manage store refits, restorations and refurbishments in line with your requirements.
In this area, we specialise in pre-decorating work, i.e. taping and jointing of plaster boards, etc. and are fully adaptable to commercial requirements.
We have worked in airports, large department stores, museums, art galleries, banks and building societies, to name just a few, and the standard of our work has led to great testimonials from our clients.
We routinely work out of hours and are focused on bringing projects in on time and on budget. Our next commercial job depends on consistently being able to provide service at this level.
Robert Fox Decorators frequently work hand in hand with other trades ensuring seamless completion of projects. We take great pride in ensuring the workplace is left clean and tidy and useable by the client at the end of each day.
Have a look at our testimonials and feel free to contact us for a free no obligation quotation