Interior Design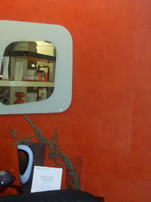 We are increasingly working alongside a leading established interior designer based in Leicester.
Not everyone is confident choosing colour ways which will enhance the beauty of their homes or businesses.
Robert Fox Decorators can provide the attention to detail, innovation and the ideas to inspire you to achieve your dreams, whether this is a show home, hotel boutique or contemporary design.
Not all of our customers have the complete vision of a total refurbishment. We can assist with that and provide the additional piece of mind that their project will be managed from start to completion, providing them with a stress free experience.
This option provides the perfect solution, with our customers having the luxury of expert advice from experienced designers with the added confidence in the quality of the finished product.
Using a designer need not be an expensive way of re-decorating your home or business. For many, this can in fact be the cheaper option – an error of judgment in choosing the wrong colour way or fabric can be an expensive one!
We have access to the very latest up to the minute wall covering designs and patterns, fabrics and accessories ensuring that your property will have it own unique finish in the style you desire.
This not only provides the ultimate service for our customers but ensures that we as a company are providing the most up to the minute ideas and materials currently available in the market place.
Have a look at our testimonials and feel free to contact us for a free no obligation quotation.